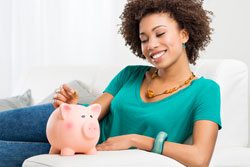 Many Americans are now discovering that a comfortable retirement and adequate healthcare are beyond their means. As a consequence, we are working later in life, lowering our expectations, and going without not only luxuries, but essentials as well.

The decisions we make through our lives come with financial consequences. These choices include the careers we develop, the colleges we attend, the people we marry, the size of our family, and the lifestyles we adopt. While many of these choices may seem out of our control, it is possible to make adjustments along the way to minimize their worst financial consequences. The advantage available to everyone is time: The sooner we understand the long-term impact of our decisions and make the necessary changes, the more likely we are to reach our financial goals.
Major Lifetime Expenses
People incur common expense categories as they pass through different stages of life. However, the magnitude and timing of each vary from individual to individual. For example, one person may have $25,000 in student loan debt, while another has none. One person might get married at age 22 and have two children while another gets married at age 35 and has three children – another may not marry at all.

As a consequence, the following categories are necessarily broad, and a specific expense category may not apply to everyone. Nevertheless, a rough timeline projecting the cost of future expenses can enable you to save a portion of your income through each phase of life, helping you comfortably pay expenses when they occur, and ultimately leading to a substantial retirement fund.
1. Student Debt
According to a recent report by the Institute for College Access & Success, seven out of ten graduating college seniors in 2013 had student loans averaging $28,400. The median debt for those who earn post-graduate degrees is an additional $57,600, according to New America – one in ten graduate students owe $150,000 or more.

The cost of obtaining an undergraduate or graduate degree continues to escalate. While there are differences in everyone's loan limits, interest rates, and repayment requirements, every borrower has to decide whether to focus on repayment as quickly as possible or make minimal payments and begin a savings program.

Read more . . .