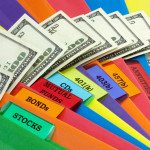 Life was good at the end of 2007 for Bill and Mary. Bill, at age 60, had enjoyed a successful career with Walgreens, one of the largest retail companies in America. His career, begun 28 years previously, enabled Mary to be a stay-at-home mom, paid for their two kids' college education, and enabled the couple to build a $1 million position in a Fidelity New Millenium Fund through constant investments over the years. During the last decade, Bill had been the beneficiary of annual stock options which he faithfully exercised, maintaining the common stock with the faith that the company would continue to grow in value. By 2007, the stock was worth more than $300,000. The couple was looking forward to Bill's early retirement in 2010 and a year of traveling, making up all of the trips they had foregone during the early years of savings and paying for college. Then disaster struck.
With the Great Recession, the S&P 500 fell more than 800 points, a 55% decrease. While the New Millennium Fund did better than the general market average, losing only 48% of its value, the value of Bill and Mary's portfolio dropped to slightly more than $500,000. The Walgreens stock also suffered, falling from $48 per share in September to $23 in 2009, and the options that Bill had yet to exercise were underwater. Their plans for an early retirement were no longer possible.
this post first appeared on the FiveCentNickel website on December 27, 2013.