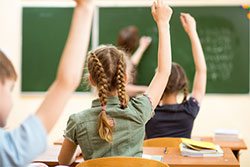 A headline in the December 2013 issue of The Atlantic claimed that American schools compared to the rest of the world—the members of the Organization for Economic Co-operation and Development (OECD)—were "expensive, unequal, bad at math." Their conclusion was based upon American student performance in the Programme for International Student Assessment in 2012. Far East countries such as China, Korea, and Japan were top performers, while most European and Scandinavian countries ranked higher than the U.S. as well. Even the country's former Cold War competitor, the Russian Federation, ranked higher than the United States in the assessment.

At the same time, Universitas 21, a global network of research-intensive universities, ranked the American higher education system—its colleges and universities—as the best in the world in 2014, a rank it has retained for years. It is also the reason that foreign students flock to the United States from around the globe.

So what is the truth about the American school system? Is it a success or a failure? What should we expect from our schools, and how can we improve them?
History of Public Education in the United States
Contrary to popular belief, the right to an "education" is not mentioned in the Constitution. In the early years of the republic, public education was considered important to the nation's progress as evidenced by the granting of more than 77 million acres of public domain to the individual states for the support of public schools. At the same time, the responsibility for education was delegated to state and local governments. The Federal Government was not heavily involved in the administration of public education until the end of the Civil War, establishing the original Office of Education in 1867.

It was not until the 1960s and 1970s that the Federal Government assumed a dominant position in the administration of education, primarily stimulated by racial discrimination. A second driver for the Federal Government's increased role was the perceived failure of the state-run schools, especially in science and math, compared to national rivals. The passage of the National Defense Education Act (NDEA) was in direct response to the Soviet launch of Sputnik as a consequence of the general perception that "American schools and colleges were not producing the quantity and quality of scientific and technical specialists necessary to keep pace with the Soviet Union."

As a consequence, the first federal student loans capitalized with U.S. Treasury funds for college students in science, math, and foreign languages were instituted. Since that time, financial assistance has alternated between direct loans capitalized with U.S. Treasury funds and loans from private parties secured by federal guarantees.

Read more . . .