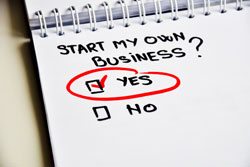 The combination of inexpensive technology, accessible virtual markets, and easy funding through crowdsourcing is changing the face of entrepreneurship. Today's new business starters are socially sophisticated, willing to bear more risk than previous generations, and more likely to work out of a home or small office and rely on others for business processes. Some are small guerrilla outfits surfing from one hot concept to the next, and some are venture capital-funded geniuses with disruptor ideas.

It is a great time to start a new business – the best time in history.
The Keys to Success
America has always been the land of opportunity, the Mecca for entrepreneurship. While great fortunes have been made by immigrants and first-generation Americans such as Andrew Carnegie in steel, John D. Rockefeller in oil, and William A. Clark in copper, thousands of others formed successful small companies that provided financial security and employment for hundreds of thousands of their fellow citizens.

The possibility of being responsible for one's own fate has never been greater in the history of the country. Latent opportunities for new ideas and businesses have exploded exponentially, each new concept and novel interpretation of old methods pregnant with possibility, just waiting to be birthed. There are several key reasons why this is so.
1. Cultural Accommodation
For much of history, capitalism was restricted to the beneficiaries of high birth, ancestral wealth, and exclusive education. The wide-open spaces and untapped resources of the new continent in the 19th century shattered cultural norms that had existed for hundreds of years. Entrepreneurs flooded the country, exploiting new resources, new markets, and new technology to create the greatest industrial nation in the history of the world.

Despite the success, access to these new possibilities was unfortunately generally limited to white males. Minorities (except in their limited communities) and women were excluded, restricted by racial prejudice, cultural stereotypes, and inefficient educations.

America in the 21st century is a more open society and access continues to broaden regardless of sex or ethnicity – anyone smart enough and brave enough to create a new business can try. According to a 2013 American Express report, there are 8.6 million women-owned businesses in the country, generating more than $1.3 trillion in revenues and providing jobs for 7.8 million employees. The rate of growth between 1997 and 2013 in new women-owned businesses has been one and a half times the national average. In a U.S. Census News release in 2011, Tom Mesenbourg, deputy director of the U.S. Census Bureau, proclaimed, "The growth in the number of minority-owned firms – both employers and non-employers – has far outpaced that of businesses overall."

Led by federal and state governments, programs to assist potential new business owners are readily accessible and generally free. An entrepreneur can access classes ranging from basic accounting, to sophisticated product and service contracting. Face-to-face onsite mentoring is available from organizations such as S.C.O.R.E., while municipalities, colleges and universities, and private businesses offer incubator facilities with administrative and accounting assistance at low cost. Federal laws require that a percentage of federal contracts be subcontracted to small businesses and provide detailed contracting assistance for those individuals and companies who seek such work.

Read more . . .