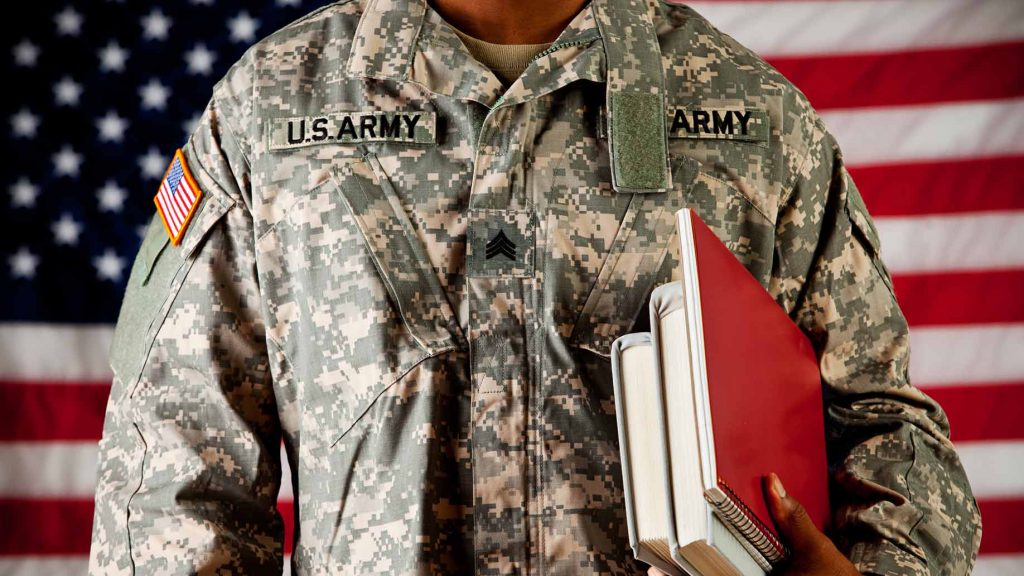 Military service has long been a path for social and economic mobility – the gateway to the middle class – for thousands of young American men and women. Service is both a way to see the world and learn valuable skills that can be transferred into civilian life – and many enlistees would not have the opportunity to attend college or purchase a house without the benefits associated with military service. Furthermore, veterans who forego college are likely to earn higher pay than non-veterans who do the same. According to Jay Teachman, a sociology professor at Western Washington University, interviewed in The Fiscal Times, "Even if they [veterans] don't earn more education, they certainly earn more money."

The opportunity to learn responsibility, focus, and discipline from military service can benefit enlistees for life. People in the military are taught how to make decisions in extreme conditions and function in periods of stress – traits critical in civilian life. However, it is important to have a thorough understanding of the risks as well as the benefits of military service, and what the commitment to a career in the Armed Forces involves.
Military Experience and Success
Political Leaders
In addition to the financial benefits of military service, the training and experience it provides have enabled many to achieve high positions in politics and business. Since World War II, 10 of the United States' 12 presidents have served in the country's military. While the percentage of senators and representatives with military service has steadily declined since the 1970s, veterans continue to represent a significant portion of Congress. According to the Congressional Research Service, 73% in the 92nd Congress (1971 to 1972) had military experience, while 18.7% of the 114th Congress (2015 to 2016) were veterans.
Business Leaders
Executive offices of the country's largest companies are full of military veterans. These include:
Frederick W. Smith: The founder and CEO of FedEx served with the Marines in two tours of duty in Vietnam.
Roger Staubach: Staubach, a former Heisman Trophy winner and founder of a national real estate firm, graduated from the U.S. Naval Academy and served two years in Vietnam.
Alex Gorsky: The chairman and CEO of Johnson & Johnson graduated from the U.S. Military Academy and served six years in the U.S. Army.

According to a 2012 report by the Center for New American Security, companies are likely to pay higher starting salaries for employees with military service. The reasons cited for the employers' preference include:
Leadership and Teamwork Skills: Typically, veterans have led colleagues, accepted direction from others, and operated as part of a small team.
Character: Veterans are perceived as being trustworthy, dependable, and drug-free, and having a strong work ethic.
Structure and Discipline: Companies, especially those that emphasize safety, appreciate veterans' experience following established procedures.
Expertise: Companies value veterans' technical skills, job-specific experiences, and understanding of the military community.
Entrepreneurs
Veterans are responsible for a significant percentage of start-up and small businesses using the experience and education provided during their service. According to Marianne Hudson writing in Forbes, 30% of all American businesses are owned by veterans. As a consequence, the National Veteran-Owned Business Association proudly proclaims, "The lessons learned and lived in military service like leadership, teamwork, competitive spirit, mission-orientation, and ambition are the same attributes needed to succeed in business."

Read more . . .