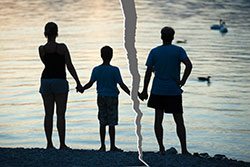 According to government statistics, there were more than 4.2 million divorces between the years of 2006 and 2011, about half the rate of marriages in the same period. Statistically, about 40% of first marriages end in divorce, while almost three-quarters of third marriages fail.

Divorce is often costly, and can be devastating for all parties involved – partners, children, parents, and grandparents. According to the Holmes-Rahe Social Readjustment Rating Scale, only the death of a spouse is a more traumatic, stress-causing event; divorce is more stressful than separation, a jail term, the death of a close family member, or a personal injury or serious illness. Fortunately, time does heal all wounds, and understanding the healing process can help speed the path to recovery.
Going Through the Grief of Divorce
Many counselors believe that divorcees go through the five stages of grief that are also experienced after a loved one dies. The stages, first enumerated by Elisabeth Kübler-Ross in her book "On Death and Dying," include:
Denial
. This may start while your marriage is still intact. It's a defense mechanism to cope with pain, usually because you can't believe divorce is happening to you.
Anger
. It's natural to feel furious with yourself for being a fool, or your spouse for rejecting you, but uncontrolled anger can make a bad situation worse, especially if there are children involved. Unfortunately, many attorneys capitalize on this anger to extend divorce proceedings, or gain a negotiating advantage. While it's natural to want to punish your spouse, it's ultimately counter-productive to a satisfactory conclusion that allows you to move on and rebuild your life.
Bargaining
. This is the stage where you try to "fix what happened," to go back and try again without the prior mistakes. It's rarely logical, and inevitably unsuccessful. Divorces are the culmination of dissatisfaction over many issues and many months, the likelihood of resolving them quickly or fixing what happened is not high.
Depression
. The reality of divorce is that there are significant losses experienced by everyone involved: the presumed-happy future, financial security, affection, and love. As a consequence, it's natural to feel sad and abandoned, to even withdraw from day-to-day life. When depression becomes significant, or begins to affect your children, it's time to seek outside help.
Acceptance
. The last stage of grief occurs when you finally accept that your marriage is over, and you put the hopes and dreams you shared with your former spouse behind you. While you may still feel anger, guilt, or depression from time to time, the episodes wane in intensity and frequency, signaling that you're ready to pick up the pieces and move on. This is also when you recognize your own strength to set a new path to happiness. You gain a level of indifference about your former spouse, having separated your personal lives. Even when you have children together, you learn to co-parent without rehashing old hurts or using the children as a weapon against one another.

To progress through the stages of grief, eventually achieving acceptance and even forgiveness, you must reconcile certain feelings before moving forward and rebuilding your life. Dr. Phil McGraw, the widely respected psychiatrist who gained fame as Oprah Winfrey's adviser, details the variety of emotions that most people feel during and after a divorce in his bestselling book "Real Life: Preparing for the 7 Most Challenging Days of Your Life."

Read more . . .