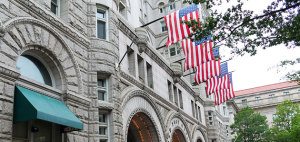 For almost 200 years, America has enjoyed global leadership in science, commerce, and government. As a consequence, the United States has become one of history's greatest economic powers, dominating the 19th and 20th centuries. The ability of Americans to "think outside the box," their courage to challenge conventional thinking, and their confidence to persevere despite numerous setbacks has inspired generations and continues to change lives around the globe.

Leaders understand that greatness is more than building personal wealth or power, but creating products and services that improve the lives of individuals and the overall human condition. But as trade barriers between countries have fallen, leaders are faced with new challenges, and America's preeminent status as the world's dominant economy has been and will continue to be challenged as never before.
21st Century Challenges for America's Businesses
There are a variety of factors that may negatively affect the competitiveness of American firms in the coming years, including three identified in McKinsey Quarterly:

1. Dynamism in Emerging Markets
The world has become "flatter" with the disappearance of natural and artificial borders that protected local and regional markets. As a consequence, markets are worldwide and more competitive, as economist and "New York Times" columnist Thomas L. Friedman predicted in 2005.

Within the next decade, China will be home to more large companies than either the United States or Europe, with almost one-half of the companies on Fortune's Global 500 list of major international players hailing from emerging markets – a 900% increase in 20 years. The emergence of nearly two billion consumers in the emerging markets will create markets in their home countries to support aggressive international growth.
2. Technology and Connectivity
Moore's Law – a computer term professing that overall processing power doubles every two years – is alive and well, and may prove to be conservative. According to SingularityHUB, many computer scientists project that the world's first "exaflop" computer will be available before the end of this decade. An exaflop computer will perform a quintillion operations a second – the inputting power equal to the human brain.

As a consequence of the anticipated quantum leap in computer power, businesses can start and gain scale with stunning speed while using little capital, value will rapidly shift between country and industry sectors to reflect the constant changes, and entrepreneurs and startups will have new advantages over large established businesses. The life cycle of companies is already shortening and decision making has never had to be so rapid fire.

Read more . . .