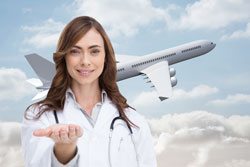 Imagine having major surgery at an internationally accredited hospital, performed by a board-certified surgeon, and then recovering with your spouse in a four-star hotel on the beach in Costa Rica. Add daily nurse and physical therapist visits to the mix, and all for less than the cost of the surgery, hospital stay, and rehabilitation in your home city. This is medical tourism—and many Americans have recently discovered it.

According to the website Patients Beyond Borders, an estimated 1.2 million Americans will travel overseas in 2014 for medical and dental services. It's also estimated that, globally, six million people will travel across international borders for less expensive (though comparable) care to save money or avoid long waits for treatment. According to the Huffington Post, British citizens are headed "to Switzerland for things like face lifts, Botox and liposuction; the Czech Republic for boob jobs, lip fillers, and nose jobs; and Thailand for teeth whitening." The Economic Times reports that the Indian medical tourism business is growing 30% annually, with 3.2 million visitors projected to spend $2 billion U.S. in 2015.

Major health insurers such as Aetna, UnitedHealth, Humana, and WellPoint are experimenting with cross-border plans, according to the New Republic. Blue Cross Blue Shield of South Carolina has contracted with foreign providers for its high-deductible, low-premium plans. While Medicare does not currently cover healthcare costs overseas, the nonpartisan group Center for Medicare Portability predicts that it's just a matter of time—retired Americans living overseas who paid Medicare premiums during their working years are currently denied medical care or must pay out-of-pocket. In addition, there would be substantial savings in the Medicare programs since comparable services overseas cost around 60% to 70% of U.S. prices.

Read more . . .