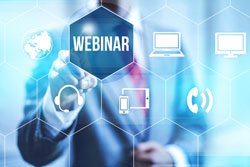 As the Internet becomes more and more ubiquitous in the workplace, webinars – or what some refer to as "online seminars" – have become increasingly popular. Educators and marketers have embraced webinars as a forum for spreading their message; sponsors find their effectiveness and long shelf-life appealing; and attendees are learning to take advantage of their low cost and convenience.

If you haven't introduced webinars into your marketing, customer service, or employee training efforts – whether you're running a Fortune 500 company or a one-person operation – you may be missing out on a significant opportunity.
Understanding Webinars
Simply stated, a webinar is a multicast, interactive audio-video seminar over the web that offers the opportunity to give, receive, and discuss information. According to an ON24 survey, the average webinar in 2013 attracted 433 registrants. Almost one-half of sponsors participating (49%) in a 2013 poll by MarketingSherpa ranked webinars and webcasts as the most effective marketing tool they used, well above mobile apps (35%), blogs (27%), press releases (21%), and social media marketing (18%).

Webinars first appeared around 1994 and have become increasingly popular as costs of production have dropped and technology for communication with broad audiences has improved. More than 80% of the webinars in the ON24 study had in excess of 200 attendees, while 15.2% had more than 1,000 attendees.
It's important to understand the distinction between webinars and other Internet-based forums, such as online meetings and podcasts:
Online Meetings
Also called web meetings, videoconferencing, teleconferencing, and virtual conferencing. In online meetings, a range of 2 to 30 participants are simultaneously involved in the discussion, which can be a corporate board meeting or project team discussion. Companies typically use online meetings for brainstorming, where participants familiar with a subject can provide input and discussion on the topic at hand.
Podcasts
Sometimes called webcasts, these are usually broadcast without interactivity. The word "podcast" is a combination of "broadcast" and Apple's then-revolutionary "iPod," which could play digital video and audio files. The availability of low-cost, high-quality cameras, as well as video and audio recording software, enables businesses of all sizes to advertise their products and services cost-effectively via this platform.
Benefits of a Webinar to Sponsor and Participants
Webinars allow sponsors to communicate a message to hundreds of participants in real-time. As a consequence, they are equally popular with educators and students, marketing professionals and potential customers, and business trainers and employees.
&nbsp:
Their advantages include the following:

Read more . . .