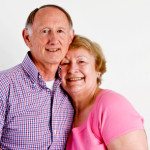 "It's never too late" is the mantra of the Boomers – never too late to start a new career, to change physiques or hair colors, to start new hobbies, or find a new mate. While life expectancy has increased from previous generations, the likelihood of having considerable time after the death of one's mate remains high. And the Boomer Generation is unwilling to waste precious time with regrets or feeling sorry for themselves.

With death comes grief – sometimes terrible, devastating sadness that seems as if it will never end. But it does end for most people. Dr. George Bonanno, a psychology professor at Columbia University who studies grief, explains that most surviving spouses initially oscillate between periods of deep sadness and distress and recalling good moments of laughter and joy. For most, this period lasts from six months to a year, the periods of sadness gradually lessening over time.

However, as 80-year-old poet and children's book author Judith Viorst notes, seniors have already experienced "bad stuff" – holes in the brain from which names and dates have dropped, ailments you've never heard of, and attending funeral after funeral of dear friends and family. Death is not unexpected, and many have prepared emotionally to some extent for the eventuality.
A New Start
Baby Boomers are increasingly recognizing that their moment will not come again, and that there is no time to waste when you cannot see past the horizon made clearer by the death of a partner. Many feel, having fulfilled their responsibility to others as a spouse or parent, that they are finally "free to be me" for the first time in decades, to take roads not traveled and revisit choices made in their younger years. By and large, Boomers are generally confident in their abilities, resilience, and self-worth. As novelist Barbara Neely said when turning 65, "I look in the mirror more often, smile at the lovely lady, and hope I look as good as she does when I reach her age."
Inevitably, a widow or widower will turn to other people, seeking to rebuild the social life they experienced before the death of their spouse or partner. Dating after 65 is both similar and different than dating as a teenager. There are the same butterflies, the same uncertainties about how to act, and the same insecurities about attractiveness, social position, and expectations. At the same time, there is less pressure because everyone has their scars and secrets.

With age, men generally become more tender and less aggressive, while women become more assertive and have little need for outside validation of their worth. By age 65, many people are comfortable in their own skins and are willing to accept others as they are. More importantly, the possibility of romance and the joy of intimacy never dies.
&nbsp:
While widowers over the age of 65 are more likely to remarry than widows due to the greater pool of mates from which to choose, widows are also remarrying at a greater rate than previous generations due to extended life spans. As University of Washington sociologist Pepper Schwartz says, "We are looking at very long periods of time. If you get married at 65, you could be together for 30 years. That may seem like a long enough time to get married." Schwartz was engaged at age 67.

Read more . . .