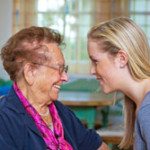 One of the more painful memories in my life was telling my father that he was no longer capable of driving or living alone. A tall, physically active man, Dad had worked since his teens in the Great Depression, fought in World War II, married and raised two boys to manhood, and dealt with the death of his spouse, burying his wife of more than 50 years. He was a proud man, always ready to help others and capable of handling life's setbacks with equal measures of grit and grace. To him, being a man meant being able to take care of yourself.

Over the previous decade, I had watched his physical and mental faculties gradually fade. The decline was slower in the beginning, but reached a faster pace as he approached 80 years of age. After a minor car accident in which he had turned into the path of an approaching vehicle, the attending policeman called me aside and insisted that I take away his keys.

As the eldest son and his only living relative within the state, the responsibility of care fell to me. I struggled with the irony of our situation, the reversal of natural roles where parent directs child. Despite my trepidation, however, taking away his car keys was for his own safety and others on the road – a loving child has no good alternative in that position.
Aging and Its Consequences
While everyone ages at a different pace, the consequences are inevitable for everyone. As you grow older, you are likely to experience some or all of the following physical and mental changes: