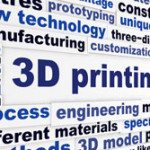 Need a new shoulder joint, a gun, or that tiny little part that fits inside your child's toy? 3D printers have the potential to change our lives and make every person an inventor, a sculptor, or a chef.
These revolutionary printers are increasingly visible in our everyday lives:
Guns. In 2013, self-declared "crypto-anarchist" Cody Wilson designed, created, and printed a plastic gun via 3D printing technology. Cody fired a shot and distributed the CAD files for the gun over the Internet. There were more than 100,000 downloads before the U.S. government closed the site. In May 2014, Yoshitomo Imura was arrested in Japan of possession of five 3D printed guns.
Cosmetics. At the TechCrunch Disrupt show in New York City in May 2014, Harvard MBA graduate Grace Choi demonstrated the Mink, a 3D printer costing less than $200 that combines FDA-approved ink with a variety of substrates to create any type of makeup, from powders, to cream, to lipstick. According to Choi, "Big makeup companies take the pigment and the substrates and mix them together and then jack up the price. We do the same thing and let you get the makeup right in your own house."
Body Parts. According to a 2013 report by TIME magazine, 3D printers are already carving out body parts like ears and noses from body cells. While early stage, the technology is promising for cosmetic and plastic surgery.
Food. The Massachusetts Institute of Technology has developed a 3D printer for food called "Cornucopia," and the French Culinary Institute has been using the Cornell-developed FabatHome for food preparation. Perhaps the space-age food replicators depicted in the "Star Trek" are not as far in the future as we might think.
Forensics & Archaeology. In the television show "CSI:New York," 3D printing is used to replicate a bullet inside a body to avoid surgery. Archaeologists can replicate fragile artifacts for study without damaging the original priceless objects. For example, visitors to the Discovery Time Square King Tut Exposition were able to see an almost identical 3D printed replica of the mummy by the company Materialise.
Michelangelo once explained that every block of stone has a statue in it, and it is the task of the sculpture to discover it. Once the artist understands the three-dimensional image he seeks, his task is to carefully chip away the extraneous material to reveal the hidden structure. If Michelangelo had been able to use a 3D printer, his creative process would had been exactly the opposite: starting with nothing and gradually creating his mental image by adding substance until the form he sought was complete.