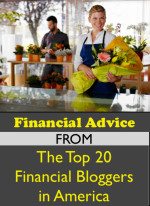 If you are interested and thinking about participating in the book, you will probably have some questions. I've tried to anticipate some questions with the following answers;

What are the subjects of greatest interest?
The audience for those books are likely to be beginning investors, rather than sophisticated traders. Advice on budgeting, how to stretch income, the types of insurance coverage they should have, how to save taxes, how to use credit cards, buying a home, paying off student debt all come to mind. You literally have an open book on what to write. I would suggest you consider what you wish you had known when you were age 25 and trying to save for marriage, a home, college education for your kids, and retirement. Consider the mistakes you made and what you would do differently given the chance.

Can I write more than one article?
You may send me as many articles as you wish. However, I will only select one for the book unless the second article is really, really good.

Will you accept an article that has already appeared on my blog?
Yes, provided it has been updated to reflect current information and I can present it as "new and revised" material. Once I've published the book, I have no problem with your publishing your own contribution on your blog. You will not be permitted to publish other pieces in the book on your blog since everyone will have copyrighted material.

Can I suggest another financial blogger contact you to include his/her articles?
Absolutely, in fact, please do as the more information we have, the more valuable to the reader. There is no limit on the articles I will consider or publish. We might make a second book if we have the material.

How will you select the order of the articles?
I'll sort the articles into the following categories first in this order: budgeting, risk protection, tax savings, investments, college expenses, retirement, estate planning; then pick those articles which deal with the subject most generally down to those more specific. For example, if you write an article about investing in "collectibles", I would categorize it in investments and it would follow more popular categories such as common stocks, mutual funds, ETFs, and bonds.

How do you plan to handle overlaps?
In each case, I'll contact the two authors and suggest a change or compromise. The fact that some advice will overlap is not necessarily a conflict if they are written from different perspectives of present different ideas.

What if I have a question that you haven't answered?
Feel free to contact me by email on the website or through my Facebook page. I will always return an email with 48 hours.