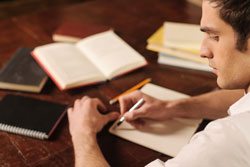 During the last five years of my father's life, he began a series of letters and memos to my younger brother and me about his life. Dad was not a famous man, nor a particularly accomplished man – at least, not by standard measures of success. Nevertheless, his letters chronicling a childhood during the Depression in the midst of the Dust Bowl, his experiences as a infantryman on the battlefields of Europe, and life in the 1950s were an incredible record of an extraordinary life and time in the history of America.

After his death, his writing was collected, organized chronologically for easier reading, and bound together for each member of the family, an incomparable legacy to his grandchildren and their descendants. As his son, I take great comfort in knowing that Dad will be remembered as a good husband, father, and friend for generations to come.

As my father used to say, "We come into and go out of this world alone, but the quality of our lives depends upon the people we touch along the way." Blood and bones, and stones and steel eventually fade into nothingness, but the love between parents and children, siblings, and spouses endures forever. It is the stories of love that remind us who we are and why we are here.

Everyone has a story and an audience eager to read, enjoy, and remember the details of each narrative. Writing your autobiography is an opportunity to reach across the boundaries of time and space, set the record straight, honor the ones you love, and celebrate the journey you have taken. It is the chance to create your own time capsule; an opportunity to leave your handprints on the walls of human existence, and to shout to the world, "I was here and I mattered!"

Read more . . .