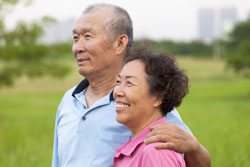 Gene Perret, the comedy writer for such popular television shows as "All in the Family," "Three's Company," and "The Carol Burnett Show," once said of retirement, "It's nice to get out of the rat race, but you have to get along with less cheese." Almost everyone looks forward to that time when they can sleep as late as they want, spend their days traveling or playing golf, and opining about the state of the civilization.

But the responsibility for a comfortable retirement rests almost completely on the shoulders of the individual worker. Government programs like Social Security and Medicare provide a minimum level of income and healthcare costs to recipients – but those benefits are intended to be supplemented with employer benefits and private savings.
nbsp;
Having failed to save enough during their earning years or being victims of poor investment decisions, many seniors are discovering that the retirement they expected is beyond their reach. As a consequence, they are working longer, scaling back expenses, and forgoing some of their dreams. But fortunately, all is not lost, even for those whose retirement dreams may seem dashed.
The Keys to the Retirement You've Always Wanted
Despite the travel industry's advertisements showing seniors walking through the sand on exotic, foreign beaches or dancing the night away on a Caribbean cruise, fewer than one in five workers are "very" confident that they can retire comfortably, according to the 2014 Retirement Confidence Survey. Only one in four current retirees are "very" confident that they will have enough money to live comfortably throughout their retirement years.

While the outlook for your retirement may be cloudy, there are steps you can take to improve your financial situation and the happiness of your retirement years.
1. Maximize Income Flow
Few people who retire continue to have the same level of income as when working. Nevertheless, there are options available to increase your income:

Read more . . .