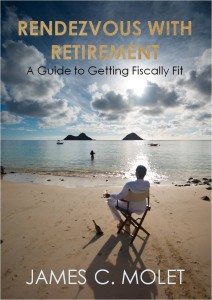 As a former investment adviser and CFP who transitioned into senior management of the largest health insurance companies in the US, I've been consistently amazed at the lack of financial knowledge the general public has about investments. The sad fact is that most people will not be able to enjoy the retirement of their dreams due to their lack of preparation when they were working. Whether the gap is due to not saving early enough, not saving enough, making poor investment decisions, or spending too much, too many Americans will come up short on that fateful day when they get the gold watch and the boot out the door.

Mr. Molet's book, while not a panacea nor a guarantee to investment success and retirement happiness, is a practical guide to preparing for retirement. His language and styling is easily understood by a neophyte and his advice is worthy of a PhD. Take his lessons to heart and you will avoid many, if not most, of the obstacles of reaching your financial goals.

It is a good read with excellent advice, and more than a bargain at the price.