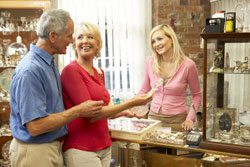 Owning a piece of the past has universal appeal. According to philosopher and antique dealer Leon Rosenstein, it's the value, uniqueness, and beauty of older items that attracts us, along with their historical and cultural associations. For some, buying and selling tangible pieces of history is a business – for others, it is a calling. Mike Wolfe, one of the stars of the television show "American Pickers," says that discovering and restoring old relics from the past to their former glory is akin to saving America's history, one piece at a time.

While lots of people are familiar with antique collecting, many are unaware of the growing market for other collectibles, from cars, to toys, to comic books, to folk art. According to the U.S. Economic Census of 2012, the industry accounts for more than $13 billion in revenues for almost 20,000 businesses, from one-man shops to giant online auction firms such as eBay and Heritage Auctions.

Everyone, it seems, has a touch of nostalgia from time to time, a sentimental yearning to return to days of past happiness. Antiques and collectibles are tangible evidence of history, monuments of a slower, simpler age when the future was bright and obstacles seemed easy to overcome.

Unlike most retail experiences, acquiring pieces of the past requires diligent searching followed by old-time price negotiation – "dickering" – between buyer and seller. Value is in the minds of the two parties, rather than any objective analysis, since many items are one-of-a kind. As a consequence, a successful acquisition requires a discerning eye and disciplined negotiations. For many, the opportunity to joust over price, pitting one's wits against another's, is as rewarding as acquiring the items themselves.
The Appeal of Picking
Finding old treasures can be both financially and emotionally rewarding. While the majority of pickers buy older pieces for their artistic or nostalgic appeal, many have found searching flea markets, garage sales, and old barns and houses to be exceptionally profitable. For example:

Read more . . .