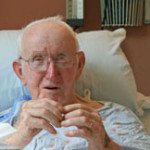 Many health officials believe that Medicaid is the glue that helps to hold our healthcare system together, taking on the highest-risk, sickest, and most expensive populations that cannot qualify for outside private insurance or Medicare. It is America's ultimate safety net. Unfortunately, it is also extremely costly: Medicaid, Social Security, and Medicare – the "big three" entitlement programs – accounted for 44% of the federal budget in 2012, according to The Heritage Foundation, and collectively consumed more than $2 trillion of services, with total revenues of $2.4 trillion.
According to the Congressional Budget Office, the Federal Government spent $275 billion in 2011 for Medicaid, covering on an average month 54 million Americans. Medicaid expenditures including federal funds is the largest government expenditure in each of the 50 states. Considering only state funds, Medicaid expenses trail only primary and secondary education expenses in state budgets.
Without fundamental change, our social welfare programs (including Medicaid) will ultimately bankrupt the country or drive taxes to unsustainable levels. A distinct possibility is that millions of poor Americans – the elderly, disabled, and children – will face a future without adequate healthcare or long-term nursing care.