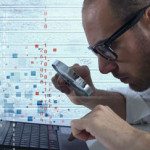 In 2013, Americans were shocked to learn that the National Security Agency conducted mass surveillance of its citizens by intercepting and monitoring Internet and phone traffic within and outside of the country's borders. When challenged, government officials justified the collection on the basis of national security and ongoing threats of foreign terrorism within the U.S., believing these threats to be aided by both American citizens and foreign nationals within the country.
The disclosure ignited a debate between those advocating the need for the government to access such information and those who deem such acts a violation of the Constitution's Fourth Amendment and an implied right to privacy. Whether the program is going be modified in the future remains uncertain.
The Risk of Identity Theft
The surveillance incident follows a growing concern for many about the possibility of their identity being stolen. Identity thieves have the potential to plunder bank accounts, run up credit card balances, and perpetrate malicious mischief on innocent people or in their names. According to a recent report based on data from the U.S. Department of Justice and Javelin Strategy and Research, about 11.5 million people are victims of identity fraud each year, with total financial losses of $21 billion. The personal stress and inconvenience suffered by victims is incalculable, to say nothing of the effort required to restore their good name and credit after the fact.