An Unsung Hero: Sniper's Target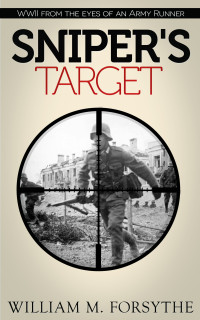 The experiences of Jimmy Ray Lewis, a runner in the 104th Division of the United States in World War II, were shared by many during the worldwide conflict between the Allies and the Axis. Drafted in June 1944, he joined the 104th Infantry division nicknamed the "Timberwolves" and renown for their progress fighting at night. Jimmy spent more than six months on the front lines including the Battle of the Bulge and meeting the Russians in Germany, the beginning of the end.

His story is more than battles and fire fights, but reveals the day to day frustrations, fears, and worries of a common soldier, a man who answered the call, did his duty, and went home to a new family and life.

One of the Amazon Five Star Reviews:
I not only learned alot of history reading this book, but it was very entertaining at the same time. The author uses a somewhat "relaxed" first-person voice, which gives it a very personal feel. What I also enjoyed about this book is that the reader is given a good feel about some of the things that the soldier's family and community is going through while all of these men are at war. This would be such a good book for middle school and high school students to learn about World War Two almost "first-hand' and in a thoroughly interesting way! " J Flaagan (verified purchaser) on January 12, 2015

This book is available from Amazon in ebook, paperback, and audio versions.