[one_half]I've dug ditches and washed dishes for minimum wage, sold shoes and tax shelters, and advised people how to make and spend a fortune. I've partied with rock stars and played Black Jack in Vegas for table limits. I studied to become an Episcopal priest. I've been in the boxing ring and on the shop floor, the stage, and the floor of the New York Stock Exchange.

I've made and lost millions of dollars in industries ranging from oil and gas exploration to wood treating. As a Principal in a National Management Consulting firm, I advised senior managers of Fortune 500 companies how to improve their revenues and cut costs. I was a Senior Executive with the largest multi-state not-for-profit health insurer in the United States, an Executive gun for hire, and started companies in auto services, fast food, software development, physician administrative services, and the manufacture and sale of industrial and commercial fabric shade structures.

Since retiring in 2012, I've spent my days remembering the past, reconciling the present, and contemplating the future. I've been fortunate to live through one of the most exciting times in the history of mankind: Man's trip to the Moon, the invention of the printed circuit board, the cure for Polio, and the evolution of Rock 'n Roll. I am a husband, father, and grandfather with my share of failures and triumphs in each role.

As I enter the dusk of my life, I remember the words of my favorite columnist, Erma Bombeck, who said, "When I stand before God at the end of my life, I would hope that I would not have a single bit of talent left, and could say, 'I used everything you gave me.'" I've learned that life is not about the destination we reach, but about the journey and the people we meet along the way.

We enter this world and are welcomed by those who love us, sharing moments of joy and happiness with fellow travelers on this great journey and sometimes sadness and despair. I believe that each of us has a purpose; some are lucky enough to discover their direction early, others must endure a series of lessons before we understand why we are here. I am one of the latter, a searcher and a seeker.[/one_half]
[one_half_last]In the last year of the last great War, I was born in a North Texas town – Wichita Falls – in the midst of a region many call where the West begins. My forebears have been Americans for generations, Scots Irish seeking a land of opportunity and freedom for those willing to work hard and trust in God's Commandments. As the country expanded West, my people followed, first to the green rolling hills and hollows of Tennessee and then to the arid grasslands of Texas in the late 1800s.

My forebears were never wealthy nor the beneficiaries of higher education. They lived by their brawn, working sun-up to sun-down, eking out a living on small dry land farms near the border of Texas and Indian Territory. They worked Mondays through Saturdays, the men tilling the ground with mule teams while their wives drew water from hand-dug wells to wash and cook on wood-burning, pot-bellied stoves. On Sundays, they gathered in churches to hear the fire-and-brimstone cautions of fundamentalist preachers before sharing a family dinner and praising God for their good fortune.

My brother and I were the first generation to transition from working in khakis and overalls to wearing three-piece suits and $50 ties, moving from the open spaces of outdoors to the corner offices of skyscrapers in Dallas and Chicago. We went to the University of Texas in Austin, he five years later than my tenure and each of us successfully negotiated the precarious, often treacherous politics of big companies, bolstered by the faith of our parents that we could achieve as high as we attempted to reach.

My family are the Okies displaced and dispirited by the Dust Bowl, the grunts who fight the wars for duty rather than expectations, and those who always have an extra dollar for those who need it most. I am the descendant of a long line of heroes and heroines who made the most of the lives they had. I stand on the shoulders of past generations looking back to their struggles and ahead to the possibilities of my own children, unafraid and eager for what is to come.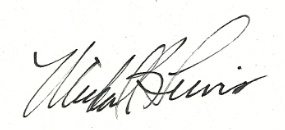 [/one_half_last]