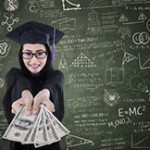 According to a report from the Bureau of Labor Statistics, approximately two-thirds of high school graduates enroll in college the fall following graduation. While most experts agree that a college education affects annual earnings by at least $20,000 (an estimated $1 million over the course of a working career), a 2011 Pew Research poll reported that more than 75% of Americans think a college education has become too expensive to afford.
In a May 2013 interview with US News & World Report, former U.S. Secretary of Education William Bennett advised parents that they shouldn't "automatically or reflexively send their kids to college," noting that there are 115,000 janitors in the U.S. with bachelor degrees today. His recently published book, "Is College Worth It?", notes there will be 14 million jobs available in 2018 requiring more than a high school education, but less than a college diploma. Bennett also claims that a community college graduate, on average, makes more today than a graduate of a four-year university. That said, according to the Pew Poll, 86% of college graduates believe that college was a good investment, with 7 out of 10 stating the experience gave them maturity and intellectual growth, as well as job preparedness.
Whatever your feelings about the value of a college degree, there's no denying that education is expensive. If you or your child wants to pursue a degree, there are ways to reduce educational expenses and avoid the long-term financial burden of extensive student loans.