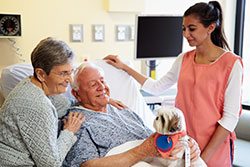 Do you feel a personal responsibility to help others? Randy Lewis, author of "No Greatness Without Goodness," claims that all people, including businesses, have the responsibility to make the world a better place. In his case, he spearheaded a Walgreens initiative to hire the disabled. In the five years following his initiative, similar programs were sparked across America and Europe.

In June 2014, Starbucks, the ubiquitous coffee cafe, announced a free online college program through Arizona State University for any employee working 20 or more hours per week. Duncan Campbell, an Oregon entrepreneur, started Friends of the Children to provide emotional and educational support to at-risk children, starting with kids in kindergarten and progressing with them through college. Of the kids involved, 83% graduate high school and 93% avoid juvenile hall for breaking the law.

While some leaders and companies receive considerable publicity and well-deserved accolades for charitable work, there are hundreds of thousands of regular Americans – your friends and neighbors – who donate to programs to make the world a "kinder and gentler place." These activities are sponsored by churches, civic organizations, schools, and charities, with services ranging from Habitat for Humanity to Big Brothers Big Sisters. But despite the ongoing success of such efforts, programs always need volunteers and financial support.
Why Volunteer?
Some people claim that their personal success and secure position has been justly earned without help from others along the way. However, this attitude is selfish, egotistical, and naive. Studies, detailed in Malcolm Gladwell's book, "Outliers," have shown that the zip code of your birth is more predictive of success, health, and lifespan than IQ, college grades, or genetics. Nobody makes it through life entirely on his or her own merits, even if assistance is not obvious. As a consequence, everyone has a debt to repay – and a reason to give back.

In addition to fulfilling a responsibility, there are many benefits of charitable giving – primarily, it makes you happier. In fact, a Harvard Business School study confirmed that "happier people give more and giving makes people happier, such that happiness and giving may operate in a positive feedback loop (with happier people giving more, getting happier, and giving even more)."

While cash is always accepted in groups serving the needy, time and effort is just as important, if not more so. Plus, giving of your time, energy, and effort provides you with immediate feedback as to what your contribution means to those receiving it.

Read more . . .